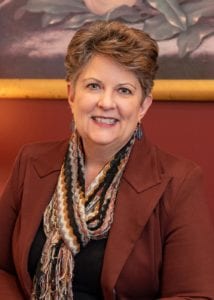 Bonnie is a Corporate Child.  In her early career, she ran the Chicago office of Cushman & Wakefield managing the Human Resources, Administration and Accounting Management departments.  Under her guidance, Chicago added offices and grew from $3.5 million in revenue to just under $15 million.
Bonnie "retired" from C&W to fill her role as Full-Time Mother to her three children.  While home she had two more children while running an in-home licensed Day Care Center.
To keep her speaking skills honed, Bonnie became a leader at Weight Watchers International.  She was there for more than 10 years and grew a following of 500 attendees per week.  She lost 54 pounds TWICE as a member before she became a Leader.
Bonnie is proud to serve as a Fire Commissioner with the Grayslake Fire Department since 2008.
In 2005 Bonnie opened a Physical Therapy Clinic in Downtown Grayslake.  She grew it from nothing to $1.3 million in gross revenues under the tutelage of ActionCOACH, Dave Verbeten.   In 2011, Bonnie was ready to open the second location and begin a franchise model however, her Business Partner did not share the same life goals.   As a result, Bonnie sold her half to her former partner and joined Peak Performance ActionCOACH.
Bonnie's ownership in Peak Performance ActionCOACH has been one of the most rewarding endeavors she's been involved in.  Helping Business Owners excel strengthens our communities and strengthens our families.  It's a win-win!
Bonnie is a Mother of 5 grown children, 3 grandsons and is looking forward to the new one on the way!
What is it about consulting that first drew your interest?
Before joining Dave, I was a client.  I often say that I didn't even know what I didn't know, ya know?  I owned a successful Physical Therapy Clinic but after 7 years, I got stuck.  We were pulling in just over a half million dollars in revenue with the equivalent of 9 full time employees, but I just couldn't seem to get the business to the next level.  The only solution I could see to bring more money in, was to work harder and faster.  When I worked more hours, I made more money but I spent more on take out, hiring drivers, babysitters, maid service, etc.   I wasn't getting ahead, I was just spending more money with LESS time to spend with my children.  I wanted a solution, so I hired Dave Verbeten as my business advisor.  Long story short, I learned the things that I knew I didn't know and many things that I didn't even know I didn't know…before two years were up, I was working less hours which meant more time with my family and we increased our revenues to over $1.3 million!  No more money worries and more time with my family!  Hiring a consultant was one of the smartest decisions I have ever made.  I loved the learning, I loved the growth, I loved the variety, I loved the excitement of winning the game of business…all of it, so I sold my shares at the clinic and joined Dave.   I have never regretted that decision.  I am excited to share with other business owners what I was so blessed to have experienced.  Dave is the whole package…he gets it…he can move a business owner if that owner is willing to change and work.  I love what I do!
What is the most impactful thing you have learned during your career?
How important the math is.  Margins, average dollar sale, break evens, conversion rates—the math, the math is crucial to success.  If you don't understand the math, get someone who does to help you.  If you can break your goals down using math, it is easier to put together a plan.  From that plan a step by step guide leading to the desired end result can be formed, quantified and tested and measured along the way.  That, and always do the right thing—no matter what, you do the right thing.
Make a prediction and describe your vision of the business future relating to Game Changer Business Results

Business owners should not be expected to know everything.  Owners are typically really good at what they love to do and that's why they go into business.  A business owner who expects themselves to know and do everything is unrealistic and even damaging to the business in the long run.  Experience teaches us that a mentor is critical to success.  I think a business advisor will be a staple to every business owner that wants to excel!
Without naming names, tell us about your favorite client and why you enjoyed working with them.
I can think of a business owner who listens, thinks, runs ideas by their advisor and really wants to improve and grow themselves as well as their business.  This owner does his/her homework and comes prepared for every strategy session.  This owner is fully engaged, is willing to change and most of all, is having fun in the process!  He or she celebrates the wins and is always looking to future improvement and growth.  When we stop learning, I believe, we start the death process.  I love watching people reach their dreams!
Describe your work style.
Conscientious.  Hard working.  Dedicated.  Caring.  Compassionate.  A giver not a taker.  Generous.  If I make a commitment to myself or someone else, I will follow through!
High standards, integrity, morals…always make decisions based on the right thing.  I will have to stand before my Father in Heaven one day and I want Him to know I did my best!
What is your proudest moment?
Knowing that all 7 of our children are either educated or well on their way to finishing.  It gives me great joy to see them all as independent adults, raising their children and leading productive and good lives.  At the end of my life, if you ask me what the best things in my life were, I will answer:   My faith, my family, when I could help out in some way and enjoying a glass of wine in the sunshine on my deck with my best friend and husband, Dave, whom I am very proud of!
What's it like working for yourself?
I often say that my boss is a witch—I am harder on myself than any boss I have ever had has been.  I demand a lot of myself and I don't cut corners.  Again, doing the right thing is usually the harder road so sometimes it feels like trudging uphill.  In the end, it is always worth the extra effort.  Oh, I do love being able to take time off when I want to!
Who most influences you?
God.  I try very hard to learn what He is trying to tell or teach me.  Then, my husband, Dave.  He is such a wealth of information I learn something new every day.  My children also…they teach me more than I am teaching them!
What bit of wisdom would you offer to aspiring entrepreneurs?
Take the time to make a business plan complete with goals laid out for year 1,2,3,4 and 5.  Some of the entries will be, at best, good guesses, but it gives you a place to start and forces you to begin thinking beyond the day to day work.  Use that plan and look at it every day at least at the beginning.  Later you can pull it out weekly or monthly or even quarterly.  If you don't have a map and guidelines how do you know where you are going or recognize when you get there?  Once you see your destination is getting close, make new plans and set the course for new goals.  Life isn't about hitting homeruns, it is about all the singles we hit!
Favorite Vacation:  Somewhere basking in the sun with a gentle ocean breeze caressing my skin, a tropical drink with one of those little fru-fru umbrellas in it with my favorite guy (Dave)  lounging next to me.  When not at the beach, an adventure doing something different with a physical challenge such as hiking up a mountain side, exploring a jungle, exploring a cave or canyon, or backpacking into the unknown.
Relaxation when not working:  Curled up with a good book
Top Desert Island Wish List:  My favorite copy of my Bible
Most Prized Possession:  My phone – everything I hold dear is listed on my phone.  I could be anywhere in the world and I would still have contact with my loved ones, I could find a means to get to them  and I could get access to money if needed.  AND I have access to my books.
Favorite Hobbies:  Camping, sewing, reading, swimming, quiet time in adoration.
What keeps me up at night: Thinking of ways to improve both myself and my business efforts
All Time favorite song/band:  Bob Seger Old Time Rock and Roll – LOVE to dance to that tune.  "Sweet 16 did turn 31"!
Favorite Books currently reading:  Read the Bible every day and currently reading How to Retire Tax Free.
Best Film:  Gladiator
A word that describes me:  Kind
Something that nobody knows about me:  I am a swimmer…I saved two children from drowning.
One in our backyard pool when I was 16.  My little cousin, couldn't wait to get in, so she climbed up the filter and jumped into the 4 foot water while everyone else was still in the house changing.  I got a gut feeling something was terribly wrong, so I ran outside, saw her floating and pulled her limp body out of the water.  CPR works!  She is a healthy adult with her own children today!
The second time, I was an adult with my children at a beach in northern Wisconsin.  A family was playing on the beach and no one noticed their little one venture too far out.  My lifeguard training is always on overdrive when I am near any body of water.   I did my usual grid check and saw this little guy go under.  I ran in and pulled him out before his family even knew he was in trouble.
Titles/Credentials
Former Vice President/Co-Owner Peak Performance ActionCOACH

Vice President/Co-Owner Game Changer Business Results

President, Bee-Ownie Properties

Published Author

 Former Fire Commissioner, Grayslake Fire Protection District 14 years

Certified Cognitive Skills Coach
Awards
George E Lees Award, National Employee of the Year

WW International Leader of the Year Award

McDonald's Corporation, Employee of the month

YWCA Woman of Achievement Entrepreneur Award
Education
Certifications in PR, Human Resources, Billing & Coding

Critical Thinking for Success

Toastmasters
Volunteer Positions
Founding Chair WeeBits not for profit

Soccer Coach, Grayslake Park Dristrict

Basketball Coach, Grayslake, Galaxy

PADS

Girl Scout Leader

Playground Chair, St Gilberts
Memberships
BNI

SBAC

EPWNG

TAM

I'm Possible WEC

Enterprise Success Group
Leadership Positions
Former Co Owner/Founder of Grayslake Rehabiliation & Complete Physical Therapy

VP Business Development/Sales