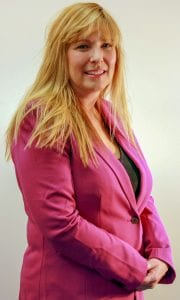 When life forces to your knees, you can lay down to die or pray to live.
What is it about consulting that first drew your interest?
I came on board here because I was a client. When I saw the difference Dave made through his consulting, in not only our business, but in our lives as well, I was hooked. I decided to join the team.
What is the most impactful thing you have learned during your career?
I have learned in my career and my life, that life is how you interpret it. Some people will face a big setback and they are down and out, finished. Other people will face the same type of setback and decide they need to rethink and fix things, it's these people who will succeed in business and in life.
Make a prediction and describe your vision of the business future relating to Game Changer Business Results.
I think that as people get more educated, they will realize that a good consultant is a necessity. I think that the norm will be business people will have a mentor. The successful advisors I know, have all been mentored themselves.
Without naming names, tell us about your favorite client and why you enjoyed working with them.
My favorite Client, there are quite a few that stand out. The ones I really enjoyed working with are the ones that really want to change and take the advice that is given. You see the changes start to happen, not only in their businesses but in their lives. One of my favorite clients had tripled his business, but what meant the most to him was that he was spending more time with his family. He said, "His wife actually liked him again". This client is extremely funny and you can see he has the right perspective.
Describe your work style.
I guess I would have to say intense and creative. I do give my all to whatever I do. I am also an idea person. My mind works very quickly, coming up with new ideas , creative thoughts and I passionately pursue them.  I am also very passionate about making a difference, about using my talents to make a positive difference in the lives of others.
What is your proudest moment?
I have had many proud moments as a parent. If I had to pick for just myself, I guess I would say there are three that are tied, being picked as a Ford Model of Courage to represent and advocate for other breast cancer survivors, becoming a published author and graduating college.
What's it like working for yourself?
I do work for myself in my own small business and I am a great boss. In this instant though, at Game Changer Business Results, I work for Dave and Bonnie. I love working here, we are more of a family, than coworkers.  I think our  talents and personalities complement each other and we make a great team.  We also care about one another and are very invested in the success of this company and our clients because of this. When you work with us you become part of our Game Changer Family and that's one of the differences that makes us and our clients successful.
Who most influences you?
This one is easy my children are my inspiration and my impetus for my life and work.  I want to provide for them the tools they need to be successful in their own lives. This is so much more than material things, it's showing them how to survive during adversity, how to reinvent yourself to grow and learn and how to make a positive difference and give back. I think about this and let this guide my life along with my faith.
What bit of wisdom would you offer to aspiring entrepreneurs?
Don't be afraid to fail.  Failure just tells you what you need to fix.  We tell our Taekwondo Students a black belt is not someone who did everything right, they are the ones who got knocked to the ground and got back up again and never gave up.  If you go into business for yourself, there will be times when you will get knocked to the ground, expect that. We will help you get back on your feet again.
If you could re-do any aspect of your life, what would it be and what would you do differently?
There are some mistakes I might correct, we all have those but truthfully there wouldn't be much I would change. I have faced very hard things, but those things have made me who I am today. If I had a do over and I could prevent having cancer, I probably would, but like everything else in life there were lots of blessings that came out of my experiences. I feel I grew into the person I was always meant to be and I am happy with that.
What separates me and our whole team from other consultants?
I would say, is we actually care. We could all be doing other things, but this is what we chose to do. I love being able to help people achieve their potential. I also am passionate about using my talents and skills to make a difference in other people's lives. I know that in the end, what will last when you're gone, is the impact that you made and the love you shared.
Describe your most memorable advisory moment.
I think advising is the same, whether you're mentoring in a business or a sport, many times what is holding someone back is themselves. I love the moments when you get someone to believe in themselves, see their own value.  A great idea is a moot point, if you don't believe in yourself enough to make it a reality, it will just remain an idea. I love the moment when you are working with someone and you see them turn the corner, gain self-esteem and you know they now have the power to make their dreams a reality. Those are my favorite moments.
Favorite Vacation:  I want to go see the underwater statues in the Caribbean
Relaxation when not working:  Reading, writing, being with my loved ones
Top Desert Island Wish List:  My loved ones, or a plane or boat  to visit them, working/reliable internet connection, my computer and cell phone,bi generator, food, water, bed. This may or may not be in order of importance.
Most Prized Possession:  My kids pictures, my parents' belongings
Favorite Hobbies:  Reading, Writing, creating anything and hitting things
What keeps me up at night: Ideas, the characters in my head, thinking about my kids and thinking about all the work I still have to finish
All Time favorite song/band:  Praise you in this Storm, Casting Crowns
Favorite Books currently reading:  I know why the Caged Bird Sings by Maya Angelou, The Bell Jar by Sylvia Plath, anything by Max Lucado and any Poetry, book, Currently reading Instagram Marketing: Social Media Marketing by David Croll
Best Film:  Gone with The Wind
A word that describes me:  Intense
Something that nobody knows about me:  I am a writer, I tell all.
Titles/Credentials
Business Development/Marketing Manager
Awards
Ford Model of Courage

2nd degree Black belt with American Taekwondo Association

Member of SCWI
Education
Bachelor Degree in English, lots of Marketing Classes and Certifications